Title:
Missus est Gabriel Angelus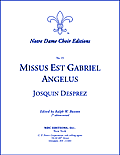 Liturgical Use:
Feast of the Annunciation; Advent IV
Remarks:
This piece evokes the moment of mystery and awe when a young girl, hearing the Angel's voice, was touched by grace. When the text marks the Angelic Salutation, the music traces the familiar Ave Maria plainsong melody in a magnificently florid paraphrase. An exceptionally rewarding work by the greatest composer of his era.
View Sample Score